Audio - Video
"History of the Tango" - DVD
Dawn Weiss, flutist, and John Mery, guitarist
Alex Krebs and Rebecca Rorick Smith, tango dancers


Fall 2007
---
Excerpts from the Nielsen Flute Concerto
Dawn Weiss, flutist, with the Vancouver Symphony Orchestra


January 2009
---
Excerpts from the Gordeli Flute Concerto
Dawn Weiss, flutist, with the Sunnyside Symphony Orchestra


October 2007
---
The following files are in mp3 format and should be playable with any audio player, including Quicktime and Windows Media: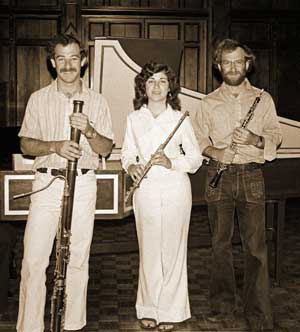 The Weiss Family Woodwinds, a solo and ensemble album with brothers David Weiss, former Principal Oboe, Los Angeles Philharmonic; and Abe Weiss, Principal Bassoon, Rochester Philharmonic; and with Zita Carno, Pianist, formerly with the Los Angeles Philharmonic.
Available at Crystal Records.
Vivaldi - Trio Sonata in g minor
Allegro ma cantabile
Largo
Allegro Molto

Messiaen – Le Merle Noir
"The individual Weiss's performances...are all first-rate..."
R. D. Darrell...High Fidelity, June, 1979
---
Trillium Winds, Dawn Weiss, flute (left) with Beatrix Böckenhoff, oboe (right) and Linda Lorati Barker, piano (center). CD released in 2010.
Purchase a CD
: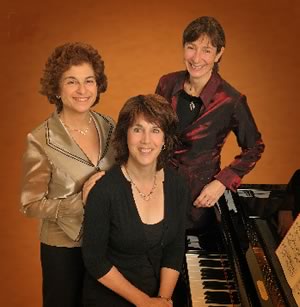 Dring - Trio for Flute, Oboe and Piano
Allegro Con Brio
Andante Semplice
Allegro Giocoso

Arnold - Suite Bourgeoise for Oboe, Flute and Piano
Dance
Tango
Ballad
Valse

Poulenc - Sonata for Flute and Piano
Allegro Malinconico
Cantilena
Presto Giocoso

Poulenc - Sextet for Flute, Oboe, Clarinet, Bassoon,
French Horn and Piano,
with Yoshinori Nakao, Clarinet
Mark Eubanks, Bassoon
Graham Kingsbury, French Horn
Allegro Vivace
Divertissement
Finale

---
Duos for Flute and Guitar, with guitarist Jon Bunce:
Messiaen's Le Merle Noir for flute and piano...expertly played...Good Sound, enjoyable listening

H. Royer Smith Company, "The New Records", April 1979
Fauré – Pavane Op. 50

Brahms – Hungarian Dance #5
---
Duos for Flute and Piano, with Pianist Susan De Witt Smith:
Thomas – Polonaise from Mignon

Chopin – Nocturne Op. 9, #2

Rimsky-Korsakoff – Flight of the Bumblebee
---

---